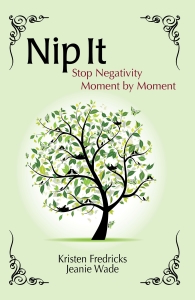 Every person's life has room for more positivity, and positivity is always your choice. The personal stories and real-life situations in Nip It challenge you to see your life as a series of individual moments over which you have control. Then you can choose to "nip" the negative moments and turn them into something more positive.
The authors provide hints and tips to help you recognize the negative situations you encounter, find ways to change their impact, and help you shift the outcomes from negative to positive. By the end of the book, you will have a toolset that will allow you to act rather than react when faced with a negative moment. When you apply the techniques that are outlined, you can begin to experience more positive life moments. And with practice, you'll find that your positive moments turn into positive hours, then positive days, weeks, and months, which can lead to an overall life of greater positivity.
If you would like a Signed First Edition, we would be glad to send you one.  They are $14.95, plus $3.95 shipping.  Please enter any special message or inscription in the box (max 200 characters), and click the Buy Now button.  This should open a paypal window where you can complete the transaction.  Please allow 6-10 days for your book to arrive.
"All of the stories they provide are very relatable and many made me laugh. The book helped show me that I seldom take a deep breath at the time of a negative moment and that I usually REACT instead of ACT!"

Lisa Nuwer, Physical Therapist and mother of two
"After just three chapters, the book worked wonders on my life! I found myself stopping when I was entering a negative situation. I now try to see if I can turn anything around."

Christina Mandolfo,

business owner and nutrition enthusiast
"The use of personal stories to illustrate their points provided great insight to me. Parts of the book literally made me laugh out loud!"

Heather Waterman,

Full time career woman, divorcee, and mother of four
"The stories are all engaging and relate-able…easy for readers to picture themselves in similar situations and thus, relate to being frustrated in the moment."

Donna Doak,

Full-time, home-schooling supermom of three